Last updated on 13 July 2021

The state of Arkansas allows CBD products from industrial hemp, which contain less than 0.3% THC.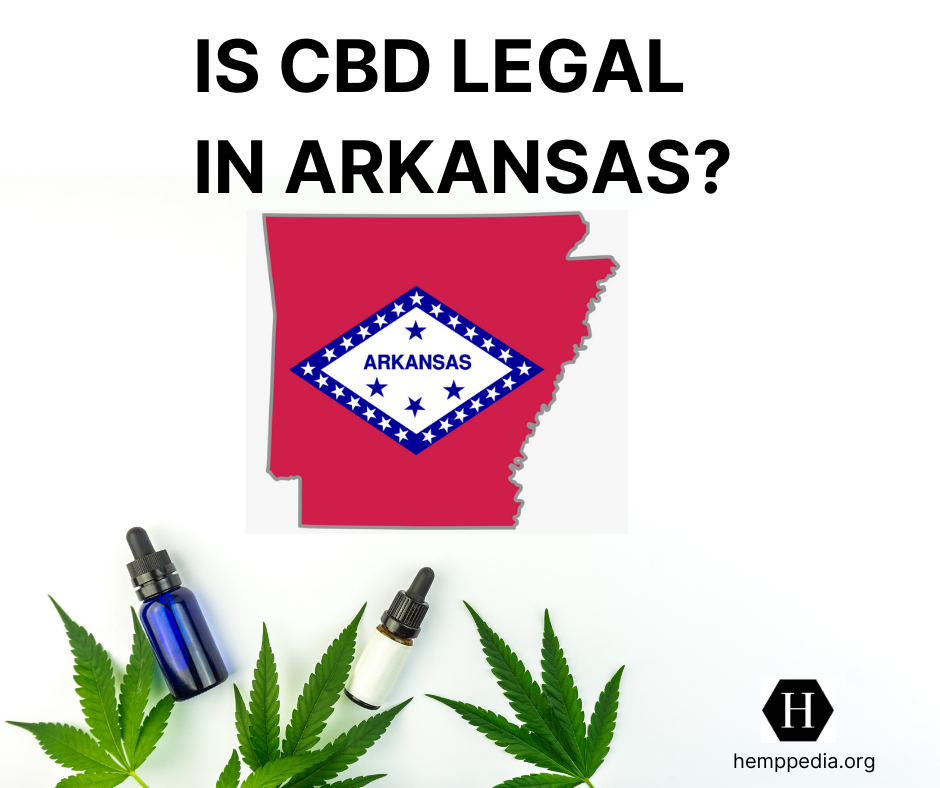 This is a common practice in other states such as Indiana and Kansas. Any other CBD products with more than 0.3% THC, require a patient card.
How did CBD become legal in Arkansas?
In 2018, the state of Arkansas released a document, clarifying many the rules regarding CBD and product containing cannabidiol. First, it makes a clear distinction between industrial hemp and other cannabis varieties. In this document, Arkansas also described that it aligns with federal law, considering anything with 0.3% THC or more by weight to be illegal.
Is Cannabis legal in Arkansas?
Only cannabis for medical use with qualifying conditions is legal in Arkansas.
| | | |
| --- | --- | --- |
| How old do I need to be to consume? | Possession limit for Flower | Possession Limit for Concentrates |
| N/A Recreational N/A Medical | N/A Recreational 2,5oz Medical | N/A Recreational 2,5oz Medical |
Qualifying Conditions:
Amyotrophic lateral sclerosis, or Lou Gehrig's disease
Alzheimer's disease
Cachexia, or wasting syndrome
Cancer
Crohn's disease
Fibromyalgia
Glaucoma
Hepatitis C
HIV/AIDS
Intractable pain, defined as pain that has not responded to ordinary medications, treatment, or surgical measures for more than six months
Peripheral neuropathy
Post-traumatic stress disorder (PTSD)
Seizures, including those characteristic of epilepsy
Severe arthritis
Severe and persistent muscle spasms, including those characteristic of multiple sclerosis
Severe nausea
Tourette's syndrome
Ulcerative colitis
Any other medical condition or its treatment approved by the ADH
Are there any penalties for CBD in Arkansas?
Currently, possession of marijuana is a Class A misdemeanor which carries a fine of up to $2,500 and up to one year in jail. Cultivation is prosecuted as either simple possession or possession with intent to deliver, depending on the amount of marijuana being produced. Possession of less than 14 grams, or half an ounce, is a misdemeanor that carries a possible jail sentence of up to one year and a $2,500 fine. More than 14 grams is considered a felony with penalties depending on the quantity. Any amount greater than 4 ounces carries a mandatory minimum three-year prison term and $10,000 fine. Though patients with qualifying conditions and their doctors approval may consume medical marijuana.
Conclusion:
In Arkansas it's legal to consume hemp-derived CBD with the amount of 0.3% or less of THC. The personal use of marijuana is illegal, however, the medical use is allowed, but only with a medical card.

With close to two decades of successful stint in the Media industry, I felt I was surely missing a piece in my life puzzle. I took a break and set out to seek the purpose of my life. I travelled, lived out of a suitcase, let things flow into life without resisting, and after five challenging years, I found my rhythm. I love to write about Cannabis and Health and try my best to simplify esoteric concepts into simple ideas for life.