Last updated on 13 July 2021

Hemp-derived CBD products were officially legalized in the state of Connecticut in January 2019. There was, however, one condition – the products containing CBD can be sold, as long are they refrain from making any claim of health impacts, medical effects, or physical or mental benefits.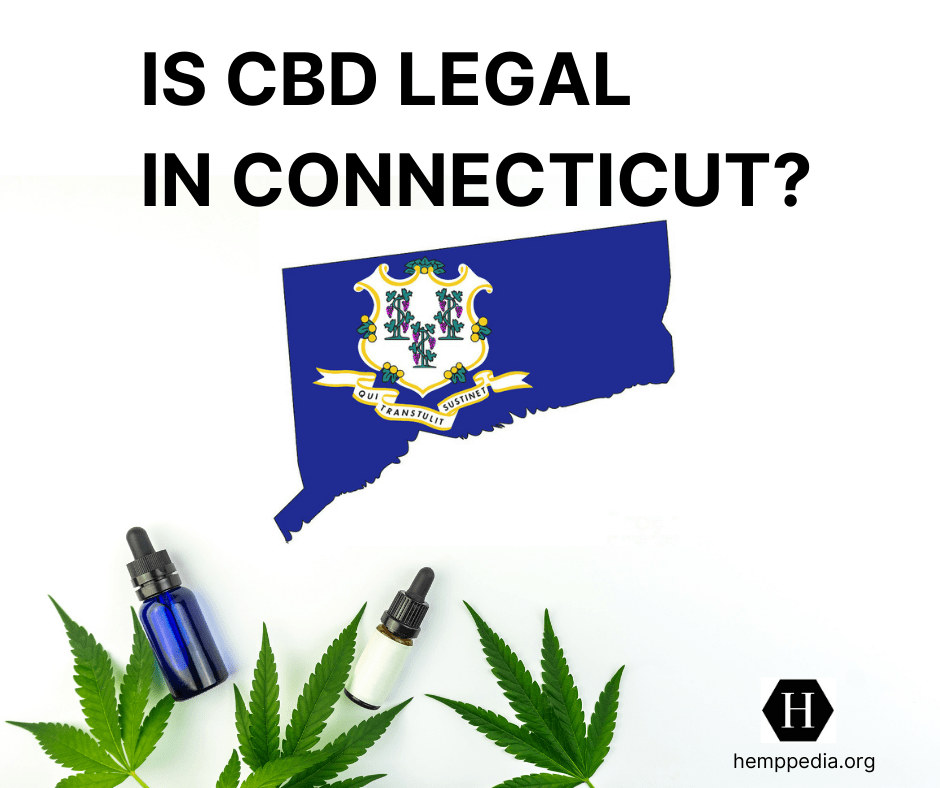 It is good to know that both CBD derived from other cannabis varieties is also legal in Connecticut. Similarly to the state of Georgia, CBD oils containing more than 0.3% THC can only be obtained by patients with qualifying medical conditions.
Where to buy CBD in Connecticut
You can find a wide range of CBD products, including smokable and vaporizable forms of CBD, edibles, drinkables and topicals in the state of Connecticut. These product are widely available fore sale, as long as they are sourced from a legally-grown hemp plant containing less than 0.3% THC by weight.
Cannabis-derived CBD on the other hand can only be found at state-regulated medical marijuana dispensaries. Of course to get access to these dispensaries, you need to be part of Connecticut's medical marijuana program and have a qualifying health condition and a state-issued medical marijuana card.
Is Cannabis legal in Connecticut?
The state of Connecticut however is very discriminating towards cannabis. The use, possession and distribution of marijuana is illegal and charged as a civil penalty. But don't mix the medical marijuana with the marijuana for personal use. In Connecticut it is legal to possess the amount of medical marijuana that is reasonably necessary for a one month's supply.
There are currently no possession limits in Connecticut for hemp-derived CBD. There are limits in place, however, for the possession of cannabis-derived CBD. A person holding a medical marijuana card can purchase up to 2.5 ounces per month of cannabis products. These products can contain both THC and CBD.
| | | |
| --- | --- | --- |
| How old do I need to be to consume? | Possession limit for flower | Possession limit for concentrates |
| N/A Recreational 18+ Medical | N/A Recreational 2,5oz Medical | N/A Recreational 2,5oz Medical |
Qualifying Conditions:
Amyotrophic lateral sclerosis (ALS), or Lou Gehrig's disease
Cachexia, or wasting disease
Cancer
Cerebral palsy
Chronic pain
Crohn's disease
Cystic fibrosis
Fibromyalgia, including associated neuropathic pain or spasticity
Glaucoma
HIV/AIDS
Hydrocephalus, or cranial fluid buildup, with an intractable headache
Interstitial cystitis
Intractable headache syndromes
Median arcuate ligament syndrome
Multiple sclerosis
Muscular dystrophy
Nervous tissue or spinal cord damage or injuries, including irreversible spinal cord injury with intractable spasticity
Osteogenesis imperfecta, or brittle bone disease
Parkinson's disease
Postherpetic neuralgia, or shingles
Post-laminectomy syndrome with chronic radiculopathy, or failed back syndrome
Psoriatic arthritis and severe psoriasis
Severe rheumatoid arthritis
Sickle cell disease
Terminal illness requiring end-of-life care
Tourette syndrome
Ulcerative colitis
Uncontrolled intractable seizure disorder
Vulvodynia and vulvar burning
Patients younger than 18 must be diagnosed with one of the following conditions:
Cerebral palsy
Cystic fibrosis
Intractable Neuropathic Pain
Irreversible spinal cord Injury with intractable spasticity
Muscular dystrophy
Osteogenesis imperfecta, or brittle bone disease
Severe epilepsy
Terminal illness requiring end-of-life care
Tourette syndrome
Uncontrolled intractable seizure disorder
Are there any penalties for Cannabis in Connecticut?
Patients must always have their valid registration certificates on hand to avoid arrest and penalties.Since cannabis was decriminalized in Connecticut in 2011, non-patients caught with 0.5 ounce (14 grams) or less may have to pay a civil penalty of $150 to $500 for the first and second offenses, respectively. Possession of more than 0.5 ounce is a misdemeanor with a possible fine of up to $2,000 and up to one year of jail time. To be able to contain medical marijuana under 18 you must have a written certification from two doctors.
Conclusion:
Hemp-derived CBD is legal in Connecticut. Marijuana for medical use is legal, however, marijuana for recreational use is illegal and can lead to very harsh penalties.

With close to two decades of successful stint in the Media industry, I felt I was surely missing a piece in my life puzzle. I took a break and set out to seek the purpose of my life. I travelled, lived out of a suitcase, let things flow into life without resisting, and after five challenging years, I found my rhythm. I love to write about Cannabis and Health and try my best to simplify esoteric concepts into simple ideas for life.