Last updated on 13 July 2021

Florida allowed the growth of industrial hemp, as long as the THC level stays below 0.3% and officially made CBD legal in 2018.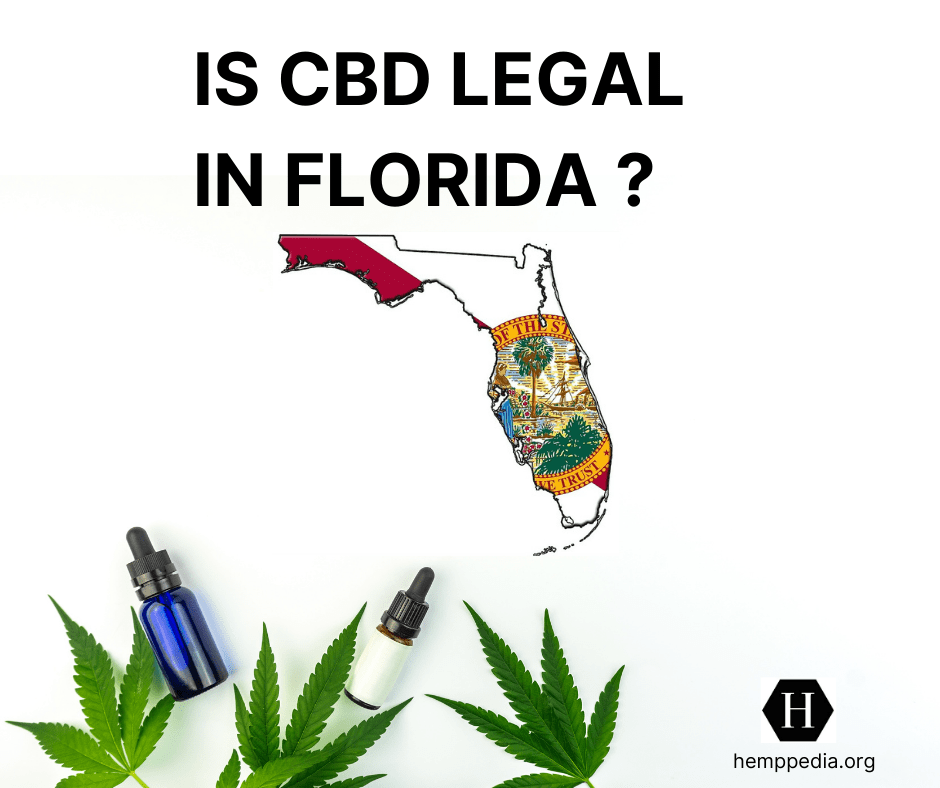 How did CBD become legal in Florida?
In 2014, Florida legalized low THC-CBD oil, but only for medical marijuana patients. It was only allowed for patients suffering form cancer, muscle spasms, seizures, and terminal illness to obtain a doctor's recommendation to purchase, possess, and consume products containing 10% or more of CBD and no more than 0.8% of THC.
Later on in 2016, as the medical cannabis program was expanding, the state of Florida looked into creating more CBD-specific laws. These included the following points
Following the 2018 Farm Bill, SB 1020, Florina officially legalized hemp varieties containing less than 0.3% THC by weight.
The law also legalized hemp extracts, as derived from legal hemp plants that do not contain other controlled substances.
CBD specifically was also legalized, explaining that hemp-derived cannabinoids are not controlled substances.
Where to buy CBD in Florida
Florida has not set any limits on how much CBD a person is allowed to possess.
Similarly to other states such as Indiana and New Jersey, Florida has allowed for the free sale of CBD. You can find CBD products online and at different retailers such as , convenience shops, health food stores. You can also purchase CBD online.
Is Cannabis legal in Florida?
In 2016 the medical marijuana expanded for individuals. Licensed physicians in Florida are not automatically allowed to prescribe medical marijuana to qualified patients. A doctor must hold an unrestricted medical license, take a two-hour course and pass a state examination.
Florida defines cannabis as either low- THC cannabis or medical marijuana. In order to qualify as low-THC, the flowers, seeds, resin, and any other products derived from cannabis plants must contain 0,8% or less THC and more than 10% of CBD by weight. Patients are not allowed to possess more than a 70-day supply of cannabis at any given time. Patients are not allowed to buy more than a 35-day supply of 2,5 ounces or possess more than 4 ounces of smokable cannabis at any one time. Adults-use marijuana sales, possession, and use remain illegal in Florida.
Qualifying conditions:
Amyotrophic lateral sclerosis (ALS), or Lou Gehrig's disease
Cancer
Crohn's disease
Epilepsy
Glaucoma
HIV/AIDS
Multiple sclerosis (MS)
Parkinson's disease
A terminal condition diagnosed by a physician other than the qualified physician issuing the physician certification
Chronic nonmalignant pain caused by a qualifying medical condition
Medical conditions comparable to those above
Are there any penalties for Cannabis in Florida?
Possession of 20 grams or less of marijuana is punishable by a year imprisonment and a fine of maximum $1,000. Possession, use, or sale of anything greater than 20 grams is charged as a felony with prison time ranging from five years to 30 years and up to $200,000 in fines. However, there are no penalties for the possession of CBD.
Conclusion:
CBD is legal in Florida, as long as the THC content is below 0.3%. Recreational use of cannabis is illegal in Florida.