Last updated on 13 July 2021

The legality of CBD in Iowa is very complex. Generally speaking, CBD oil is not legal in Iowa, unless you are qualified for Iowa's medical marijuana program.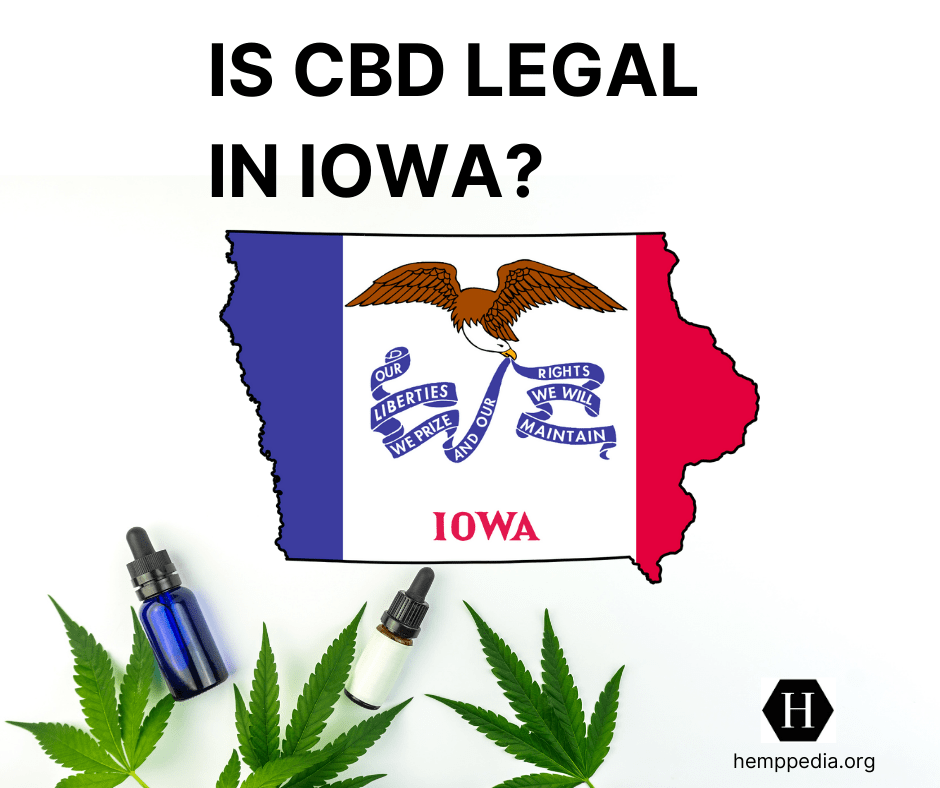 In 2014, the Iowa legislature passed SF 2360, to allow individuals diagnosed with intractable epilepsy to use CBD products with 0.3% or less THC by weight. However, Iowa patients had no means of purchasing their medicine within the state. The state says it can be treated with CBD oil prescribed by a doctor. Although in 2018 the Congress passed the 2018 Farm Bill, which legalized the production of hemp containing less than 0.3% THC, CBD still remains illegal unless it is grown, sold, and possessed in participation with the Iowa Medical Cannabidiol program.
Is Cannabis legal in Iowa?
Recreational use is illegal in Iowa. Medical use is legal but very restricted.
How old do I need to be to consume
Possession Limit for Flower
Possession Limit for Concentrates
N/A Recreational
Not specified Medical
N/A Recreational N/A Medical
N/A Recreational Restricted Medical
Qualifying Conditions:
Amyotrophic lateral sclerosis (ALS), or Lou Gehrig's disease;
Cancer with severe or chronic pain, nausea or severe vomiting, or cachexia (wasting disease)
Crohn's disease
Multiple sclerosis with severe and persistent muscle spasms
Seizures
Untreatable pain
HIV/AIDS
Crohn's disease
Any terminal illness, with a probable life expectancy of under one year if the illness or its treatment produces one or more of the following:

Cachexia, or severe wasting disease
Nausea or severe vomiting
severe or chronic pain
nausea or severe vomiting; cachexia, wasting disease;

Parkinson's disease; and
Untreatable pain.
Are there any penalties for using Cannabis in Iowa?
The possession of any amount of recreational marijuana in Iowa is a misdemeanor. First-time offenders can be jailed for 6 months and forced to pay a maximum fine of $1,000. Second and third possession offenses are also charged as misdemeanors, with incarceration of 1 year and 2 years and a maximum fine of $1,875 and $6,250. Medical use of marijuana flower is currently illegal in Iowa, punishable by the same penalties as recreational marijuana. However, concentrates are legal for medical use but only very restricted.
Conclusion:
CBD is illegal, unless it is grown, sold and possessed with the Iowa Medical Cannabidiol program. Medical use is legal but only marijuana concentrates and for medical patients.

With close to two decades of successful stint in the Media industry, I felt I was surely missing a piece in my life puzzle. I took a break and set out to seek the purpose of my life. I travelled, lived out of a suitcase, let things flow into life without resisting, and after five challenging years, I found my rhythm. I love to write about Cannabis and Health and try my best to simplify esoteric concepts into simple ideas for life.