Last updated on 27 September 2021

CBD oil for dogs can be used as an alternative medication for dogs that suffer from ailments such as seizures, anxiety, stress, arthritis, back pain, gastrointestinal issues or cancer symptoms among other diseases. Dr.Adam Christman, an award-winning veterinarian and a board member of the New Jersey Veterinary Medical Association in an interview with HuffPost1 stated that CBD oil can he effective when relieving dogs' anxiety, cause by fireworks, for example.
Why Can CBD Oil be Beneficial for Dogs?
While there's not many dedicated medical studies on using CBD to treat dogs, there's anecdotal evidence from dog owners suggesting it can help relieve pain, as well as to control seizures.
A great example of this is the story of the Hungarian dog shelter, "Paradise of Dogs". Dogs in the shelter are being regularly treated with CBD oil for dogs donated by a CBD company and show significant signs of improvement.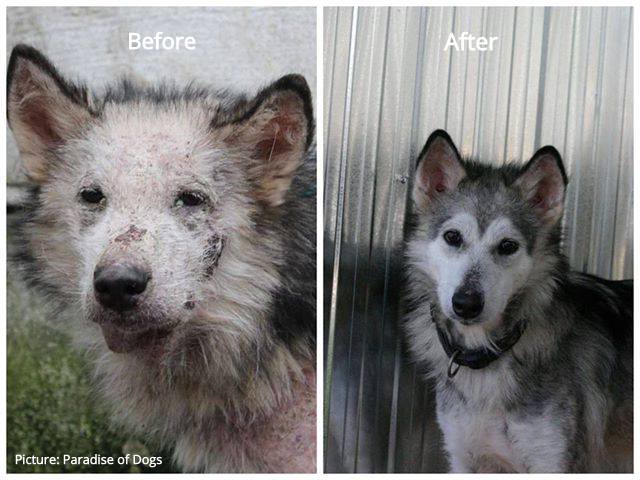 The above picture shows a before/after comparison of a dog with a demodicosis skin disease. The two photos were taken one month apart. The dog was regularly treated with CBD oil.
Anecdotal evidence such as this has inspired the Canine Health Foundation to officially explore the effectiveness of CBD in dog's epilepsy. The ongoing study, called Efficacy of Cannabidiol (CBD) for the Treatment of Canine Epilepsy, aims to determine if CBD is effective in decreasing seizure frequency, as well as wheter it has the potential to improve the quality and length of life for dogs with uncontrolled epilepsy. The results will shine light on much-needed information, especially for veterinarians.
CBD has shown to stimulate appetite or rectifies the loss of appetite2 and relieves inflammation by interacting with the endocannabinoid system, which is the one that helps to maintain the dog's natural balance within its body3. The maintenance of natural balance in the body is known as homeostasis. It is this endocannabinoid system that is responsible for the regulation of appetite, inflammation and pain. CBD manages to provide relief in respect to the ailments mentioned.
The effectiveness of CBD for dogs has been endorsed by many dog owners. Testimonials are widely available online, showing the positive effect this compound has had on man's best friend.
So, is CBD oil good for dogs?
It is difficult to generalize and put it in a statement and say CBD oil is good for dogs. This might be misleading. Therefore it is essential to understand what your dog needs and what is the specific purpose for which you are trying to introduce CBD oil for your dog.
We are currently flooded with a lot of CBD based products in the market for both humans and animals. Although the CBD oil used for humans and pets are the same, it does not mean that they show similar therapeutic benefits. Based on the breed of your dog, age, size, weight, pre-medical history, symptomatic conditions, and proper consultations with your Veterinarian CBD oil could be administered to your dog as a supplement in conjunction with other regular traditional vaccines or medicines that you use. Also, the CBD oil that you chose to give your dog must have less than 0.2% to 0.3% THC.
The presently available data on the therapeutic benefit of CBD on dogs is an anecdotal report. There is a need for more scientific research that it gets universal acceptance about the clear benefits of CBD oil on pets.
How is CBD for Pets Different than CBD for Humans?
The CBD oil that is administered to dogs and pets by extension has one major similarity to the CBD oil that is administered to humans. They all have a common factor, which is that the CBD oil does not make the user high. However, there are 2 vital differences between CBD oil for humans and CBD oil for dogs:
The lack of terpenes in pet oils
The flavoring
When it comes to packaging, the Food and Drug Administration has imposed strict standards that insist on different labeling for human and pet dietary supplements. So naturally, CBD oil for pets comes in a different, clearly marked packaging.
CBD oil for dogs is usually flavoured to make it more appealing to canines. Cod liver oil has also been known to be added to the CBD oil when administering it to pets to enhance its overall effects, but this is not the case with CBD oil designed for human consumption.
Can you give your dog the same CBD oil for humans?
While choosing the CBD oil for your dog, ensure to cross verify the following points:
Potency: Ensure that your CBD oil is THC free. There are several fatal cases reported on marihuana use in pets.
Dosage matters. Although the CBD oil that you use has low THC, the dosage of CBD oil for your dog is a specific case and needs to be taken into account.
Flavor: The presence of terpenes such as limonene, myrcene, pine, tea tree etc which are basically plant or flower extracts, commonly known as essentials oils. Small amounts of these terpenes in the CBD oil could possibly harm your pets.
It is a good practice, to separately store products that you use and the ones for your pets even though they may be the same.
According to the Food and Drug Administration Act, labelling of products appropriately for humans and pets is mandatory. The label has to include the total net quantity, amount of CBD per serving, ingredients list, manufacturing and expiry date. Ensure that it does not contain any other additive apart from the carrier oil.
The base CBD oil compound from cannabis is the same for both humans and dogs. Since pets have a different taste and a different absorption capacity, terpenes free, CBD oils are best recommended for dogs and cats.
Herbicides, pesticides, heavy metal or other contaminants could be harmful to your dog.Therefore, a standard quality CBD oil will be free from any contaminants or adulterations ensuring 100% safety for consumption.
CBD Oil for Dogs with Arthritis
Arthritis is an extremely common problem with dogs. The condition usually leads to the inflammation of the joints. Dogs suffering from arthritis usually have to contend with discomfort, pain and stiffness4. CBD for dogs with arthritis can be effective as it also reduces the pain associated with it5.
While traditional methods of pain management of arthritis, which involve prescription medication on opioids, may be highly effective in tackling pain, they come with their baggage which consists of serious long term side effects. These may include liver damage and long-term chemical dependence associated with opioids. This is basically addiction with the possibility of overdoses, and it could be lethal. CBD for dogs with arthritis has, however, been seen to be effective as a natural alternative with very minimal side effects.
Related article: CBD Side Effects
CBD Oil for Dogs with Hip Dysplasia
Hip Dysplasia affects dogs in their hip or elbow regions commonly caused by malformations in their joints. It is similar to a bone dislocation condition in humans.
The bones grind against each other giving them severe pain, discomfort, inflammation and disturbs their mobility to a great extent. The pain can be so severe that they even lose interest in walking up to their food bowls.Prolonged cases could lead to Arthritis.
The anti-inflammatory properties of CBD oil can have therapeutic benefits and can reduce the severity of pain as well.
Veterinary experts also see two different reasons for such a condition. It could either be bone related or a neuromuscular condition.
The latter is related to a degenerative condition that requires precise diagnosis and treatment. Doctors opine, in most cases, degenerative conditions have no cure but treatment helps to manage the condition better.
Therefore, understanding the root cause of the condition of hip dysplasia and then proceeding for the best suitable medication could help your dog in speedy recovery. CBD Oil can be a good supplement for your dog along with traditional medication and therapies.
CBD Oil for Dogs with Cancer
There is often some confusion when it comes to CBD and cancer. While cannabidiol can help improve the quality of life for both dogs and humas, it is not a "miracle drug" and in no way cures cancer. With that said, CBD can be a great additive to your dog's diet, as it acts as a boost to the already ran down immune system.
There is also medical evidence that CBD can help stop bad cell growth in tumors6. While this study is not mainly focused on dogs there is still weight to the argument that CBD oil can help cancer in dogs. You can also read our post about CBD and cancer for more information.
CBD Oil for Dogs with Anxiety
CBD works with the endocannabinoid system. When the dog's body releases endocannabinoid chemicals, which connect with cannabinoid receptors that are located all through the central nervous system, the dog's body will be stimulated to generate a natural mood stabilizer that is referred to as serotonin7 When CBD for dogs with anxiety is administered to a dog facing acute anxiety, the natural ability of the dog's body to produce serotonin would be enhanced. This would naturally stabilize the dog's mood.
CBD Oil for Dogs with Epilepsy
Epilepsy amongst canines is quite common and accounts for up to 5% of all the dog population. Therefore, any treatment associated with epilepsy in dogs would be of great benefit to a big population of dogs. A study conducted on sixteen dogs that had epilepsy showed that those that were administered with CBD had the frequency of their seizures reduced by 89% which is quite a big decrease8.This shows that CBD could be used as part of a dog's epilepsy treatment and is a step forward in the development of CBD oil for dogs with epilepsy.
How Much CBD Should I Give to my Dog?
CBD is not psychotropic, which means it doesn't make users or pets high. This clears the worry of overdosing the dog to the point of being 'high'. However, it is important to adhere to dosing guidelines for pets. The basic rule when dosing dogs is 1-5 mg of CBD oil for every ten pounds in weight of the dog.
Can my dog overdose on CBD?
Keep two things in your mind when it comes to dosage.
"Quantity has its quality on its own"
Consult your Veterinarian
Although we can agree that we humans and dogs have similar ECS. But when it comes to dosage, it is always good to consult your Veterinarian and get your dog examined for any medical condition, weight, age, size, etc to determine the right dosage. This will also help you and your dog understand the purpose of giving CBD. There is a difference between living with a dog and being able to read your dog.
Whatever medications that you use on them, good or bad, they will not be able to tell you how they feel. We have to learn to read them well.
Although overdosage of CBD oil does not put your dog on a high, they might tend to dislike it.
Misuse of drugs or CBD with higher THC content could result in drowsiness, over sleeping, vomiting, drooling, incontinence, hypothermia, seizures, etc.
Start with small dosage and increase dosage gradually by 1mg of their body weight. If you find your dog is taking time to adjust, like or show improvements. Wait. On the other hand, if you find your dog excited to get her dosage, make sure you don't just randomly give her more. Remember to observe improvements and make note.
How to give CBD oil for dogs
Use of dropper
The most effective and easiest ways to administer CBD oil for dogs is to place them directly in their mouth using the dropper. They get the exact dosage required and slowly they tend to understand that what you give makes them feel better. Building trust plays an important role in getting maximum benefits. Make sure to treat them with their favourite treats immediately after every dose.
Tasty treat
Mixing CBD oil in a tasty treat that is home made also could work well, if you find that your dog does not like the earthy taste of CBD oil when directly placed in the mouth.
Mix CBD oil in food
Diluting CBD oil in Water
According to an expert Veterinary officer, Dr.Jerry Klein, he advises to stay at home after administering any medication for your dog, for observing changes. This is the first best thing that he recommends.
Is CBD oil safe for dogs?
When it comes to treatment for pets, the Veterinary field has been undergoing a lot of changes. Integrated approaches from eastern medicine, alternative medicine and a combination of traditional medicines are catching up with owners and Vets.
Massage Therapy, Hydrotherapy, Acupuncture, Electromagnetic field technologies and CBD based medications are interchangeably practiced based on the condition and severity of an ailment.
Dogs are our companions not only at home but also in various professional fields. Their health and wellness matters to us. CBD oils have therapeutic properties in treating inflammation, chronic pain and anxiety problems. Having said that it is also important to understand accurately what problem that your dog is undergoing and if it would respond well to CBD.
Expert advice and medical consultations is essential before you begin to administer CBD oil for your dog. Every dog is different and every symptom or case is unique. There is no harm in taking second or third opinions.
Conclusion
CBD oil for dogs presents a viable option for treatment of various ailments in dogs to the traditional opioids used to relieve pain, fight arthritis and help manage cancer. This is because opioid use comes with various disadvantages which includes addiction and the probability of overdosing your dog to lethal limits which may cause death. Some of these synthetic drugs have been seen to cause long-term, chronic liver problems. It is prudent for all pet owners to try out CBD oil treatment for their dogs to reap the benefits of natural treatment.
Gonzalez, D. (2019). HUFFPOST FINDS Could CBD Keep An Anxious Pet Calm During Fourth Of July Fireworks? We Asked The Experts. [online] Huffpost.com [↩]
Iffland, K. and Grotenhermen, F. (2017). An Update on Safety and Side Effects of Cannabidiol: A Review of Clinical Data and Relevant Animal Studies. Cannabis and Cannabinoid Research, 2(1), pp.139-154. [↩]
Reggio, P. (2010). Endocannabinoid Binding to the Cannabinoid Receptors: What Is Known and What Remains Unknown. Current Medicinal Chemistry, 17(14), pp.1468-1486. [↩]
The Kennel Club (2019). Arthritis in dogs. [online] Available at: https://www.thekennelclub.org.uk/health/for-owners/arthritis-in-dogs/ [↩]
Vanegas, H., Vazquez, E. and Tortorici, V. (2010). NSAIDs, Opioids, Cannabinoids and the Control of Pain by the Central Nervous System. Pharmaceuticals, 3(5), pp.1335-1347. [↩]
Davis, M. (2016). Cannabinoids for Symptom Management and Cancer Therapy: The Evidence. Journal of the National Comprehensive Cancer Network, 14(7), pp.915-922. [↩]
Shannon, S., Lewis, N., Lee, H., & Hughes, S. (2019). Cannabidiol in Anxiety and Sleep: A Large Case Series. The Permanente journal, 23, 18–041 [↩]
COLORADO STATE UNIVERSITY (2019). CBD clinical trial results on seizure frequency in dogs 'encouraging'. [online] EurekAlert!. Available at: https://www.eurekalert.org/pub_releases/2019-05/csu-cct052019.php [↩]

With close to two decades of successful stint in the Media industry, I felt I was surely missing a piece in my life puzzle. I took a break and set out to seek the purpose of my life. I travelled, lived out of a suitcase, let things flow into life without resisting, and after five challenging years, I found my rhythm. I love to write about Cannabis and Health and try my best to simplify esoteric concepts into simple ideas for life.